Freebord-Game.com's Blog
1 August 2014
Mad Freebording is now officialy featured in the
Windows gallery on Unity's site
! Thanks to Microsoft and Unity! I can't wait to get my next game
Mad Snowboarding
featured there too ;). Stay tuned for the Mad Snowboarding demo, it will be released in a few weeks!
5 June 2014
Freebord The Game now available in Windows Store!

Finally Freebord The Game made it to the Windows Store and can now be played offline on Windows desktop PCs and also on Windows Tablets! Half of the game is available for free completely without ads. The other 8 levels can be played in the full version of the game that can be purchased for a few dollars.
7 May 2014
Yesterday Mad Freebording came out on Windows Phone
and today the Windows tablet users can find
Mad Freebording in the Windows Store
! Additionally, having Mad Freebording on the Windows Store means that we have the first offline playable version of Mad Freebording for Windows PC! I never thought that my Freebord Game would make it to so many different platforms! How awesome is this Mad Freebording is now available on Android, iPhone, Windows Phone, Browser and Windows Store! In near future it will be even available on Black Berry and Ouya! xD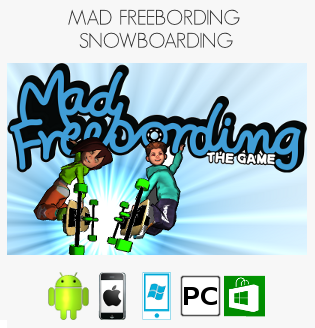 5 June 2014
Freebord The Game
patch on Android!
- customizable controls
- improved performance
- faster level loading
- now using the newest unity version
6 May 2014
It took a long while, but now Mad Freebording is finaly available on
Windows Phone
! Here I want to thank Microsoft for their
Windows Phone & Windows offer for Unity
! I did not only receive a Nokia Lumia 925 device for testing purposes FOR FREE, but they tested my stuff and gave me feedback. I advise every Unity game developer to submit an entry to them (just Google it)!